Black Friday has already become a worldwide sales phenomenon where retailers offer products and services for a discounted price throughout the last two months of the year. This special occasion usually kick-starts people's Christmas shopping and indicates the beginning of a busy sales period for online and high street retailers.
In the US, Black Friday officially takes place the day after the Thanksgiving holiday which falls on 25 November this year. Black Friday is followed by Cyber Monday (a marketing term for online retail sales events) where online retailers offer discounts on tech devices. Cyber Monday will be on 28 November 2022.
At this season, it is really easy to get caught up in the festive spirit and overspend on the stuff we weren't intending to have. But this time, with soaring inflation and supply-chain problems, customers may see higher starting prices than they had in the past.
Consumer spending is a significantly large part of the US economy. The amount of the average net earnings, also known as "disposable income" is the most important determinant of spending.
As a result of stimulus checks and pent-up demand from staying at home during the pandemic in 2000 and 2021, households had more disposable income than ever before. With the pace of inflation reaching all-time highs and soaring energy bills, consumers are going to have limited disposable income this year.
Under the economic storm where optimism about the economy is historically low and inflation is eating up the purchasing power, will consumers change their holiday shopping habits?
All the information you need in one place. Add EquityRT to your toolkit for quality investment research.
According to the National Retail Federation's (NRF) 
press release
 on November 3, 2022, holiday spending is expected to be healthy. Even with the recent inflationary challenges, customers are expected to remain engaged in shopping.
NRF predicts that holiday retail sales during the last two months of 2022 will grow between 6% and 8%, over a 13.5% rise reported in 2021 and a 9.3% rise seen in 2020-during when pandemic-related issues were weighed on during the holiday shopping season.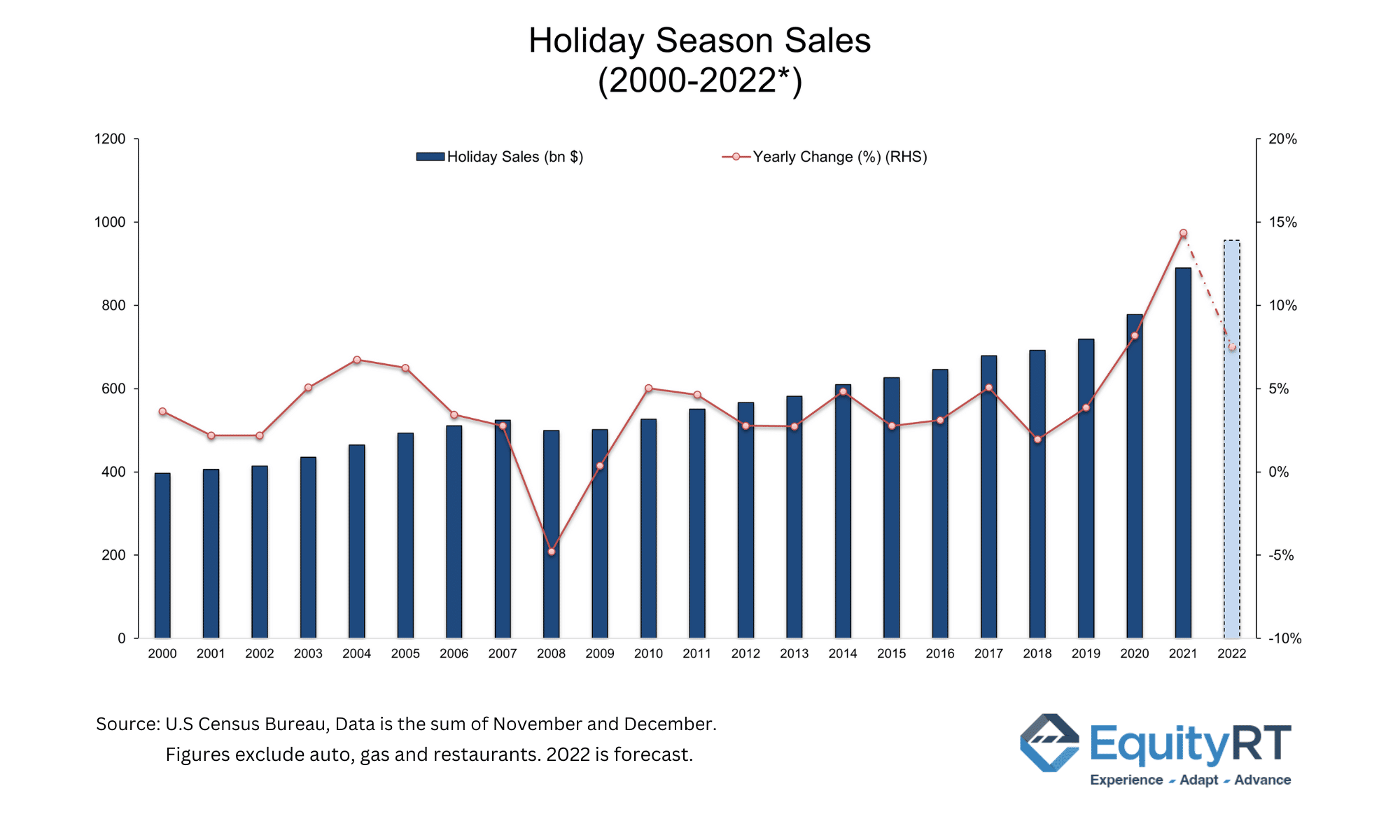 Despite the slowdown in sales growth, the NRF is predicting "healthy holiday sales". The inflation points to an annual rate of about 8%, which balances out any predicted gains.
As NRF says, subtracting the inflation rate from the nominal growth projections for retail sales may be too simplistic as the inflation level varies across different segments in retail.
If sales can hold onto the growth they reached last year, this would be a success.
Many retailers have kicked off the holiday shopping season earlier than before and there will be plenty of opportunities for them, especially for those that are prepared to start engaging shoppers early. It is clear that in light of economic challenges, they need to be sensitive to consumers' moods, and support shoppers in their quests to find the most meaningful and functional products.
With people more stressed about their budgets this Christmas, they will look forward to taking the advantage of better deals to save money on gifts.
It is undeniably a tricky time for both consumers and businesses.