The inflation shock has surged worldwide in recent months, as annual inflation rates across advanced economies reached their highest levels for years or even decades.
The United States stands out among the major advanced economies with a larger increase in consumer goods prices. The annual consumer inflation for the last month of 2021 increased by 7%, jumping to the fresh high since June 1982. The Euro area inflation rate rose above all forecasts to all time high of 5% with Germany at almost a 30-year high of 5.3%. The main driver of inflation in the Euro area is energy prices and monetary policy cannot do much about energy shortages.
How should the central banks respond?
The rapid price gains became a source of deep concern among consumers and policymakers. Inflation is one of the main topics that central banks are considering when they decide on how quickly to return monetary policy to normal.
The key question relates to inflation expectations: If consumers and businesses believe that inflation will rise in the future, they will try to incorporate into wage claims and in setting future prices which will make inflation more persistent.
The recent acceleration in the inflation rate seems to be different from other inflationary periods that were more related to the regular business cycle. Higher energy prices and more costly imports are blamed for the inflationary surge.
Below are some relevant economic indicators, both on advanced and developing economies, compiled from EquityRT's "Economics" content on inflation and inflation expectations, oil prices and the central banks' interest rates:
All the information you need in one place. Add EquityRT to your toolkit for quality investment research.
Global Inflation Rates – Major Economies (%)
Prices are rising all around the world:
The United States has recently seen one of the biggest increases in 40 years but he is not alone: In Europe, prices have been rising faster than at any time while the United Kingdom hit the highest figure (5.4%) in nearly 30 years.
China and Japan are the outliers. Japan has been struggling against deflation or falling prices for more than decades and China has recorded a lower inflation rate than in early 2020.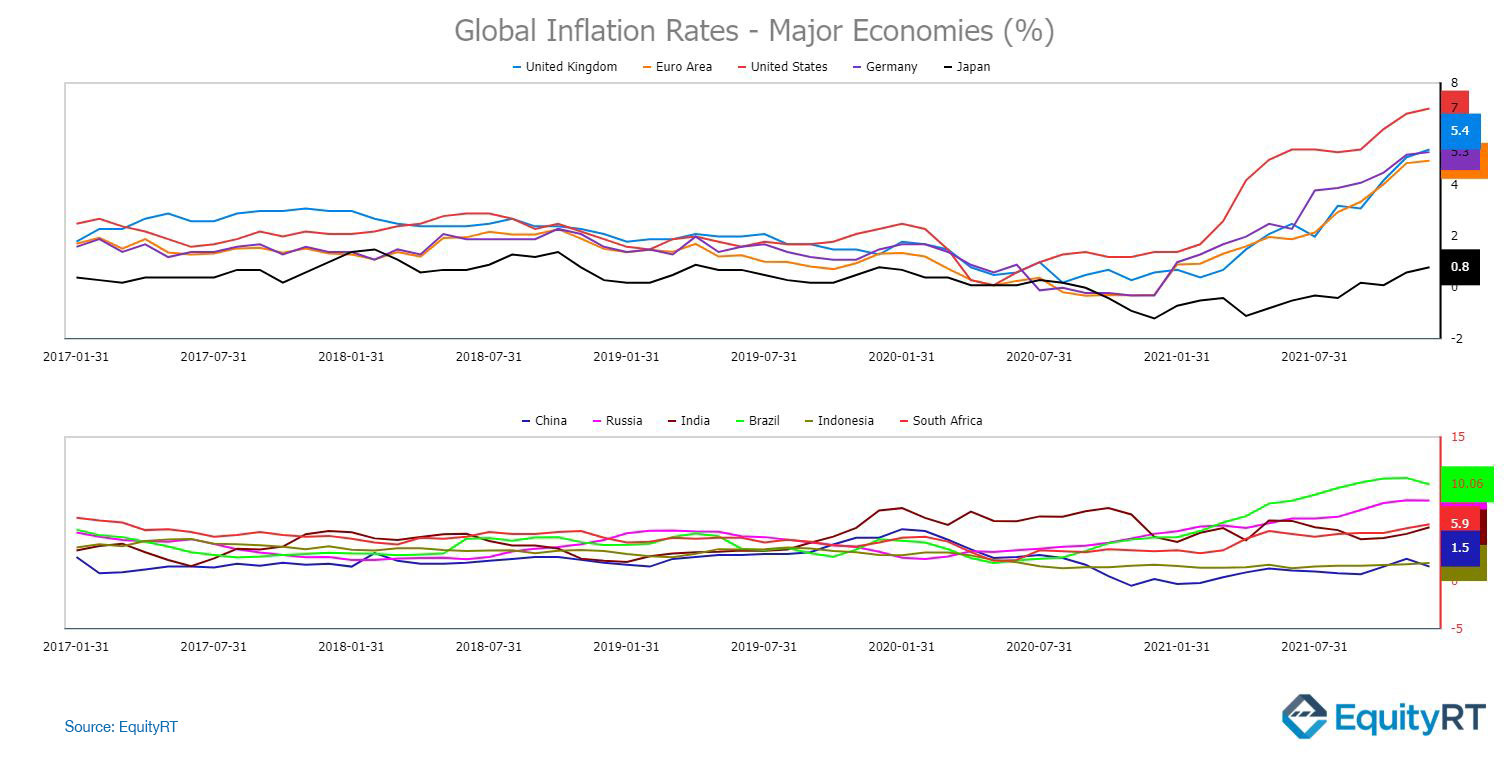 Import Price Inflation (annual change, %) – Selected Economies
Over the past year, import prices in the United States have climbed 11.7% in November 2021.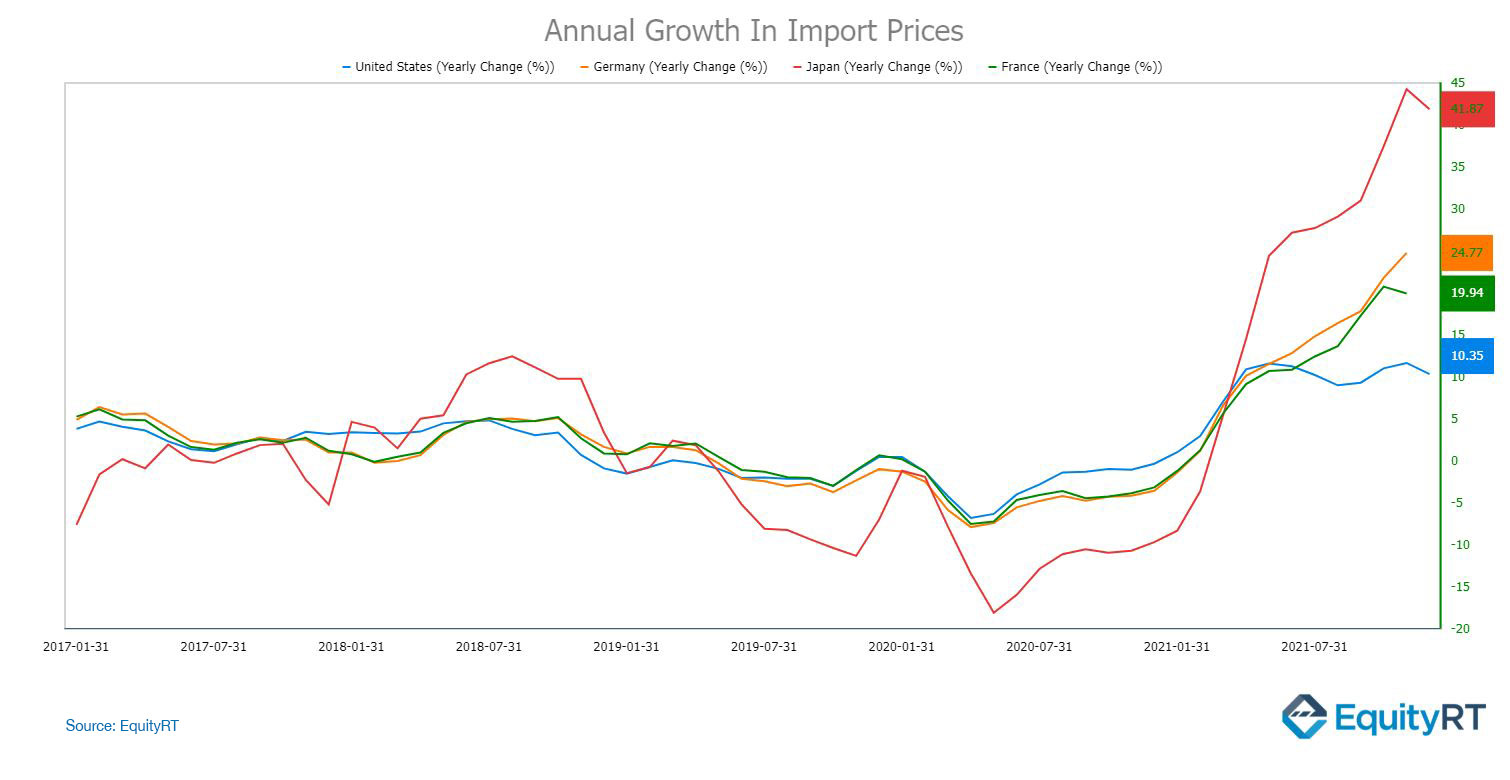 Brent Crude and Heating Oil Soared 50% in 2021
Brent crude futures soared by 50% in 2021, and in 2022, already further increased by 14% at 7-year highs of $89 a barrel. Higher energy costs and rising inflation are causing policy headaches.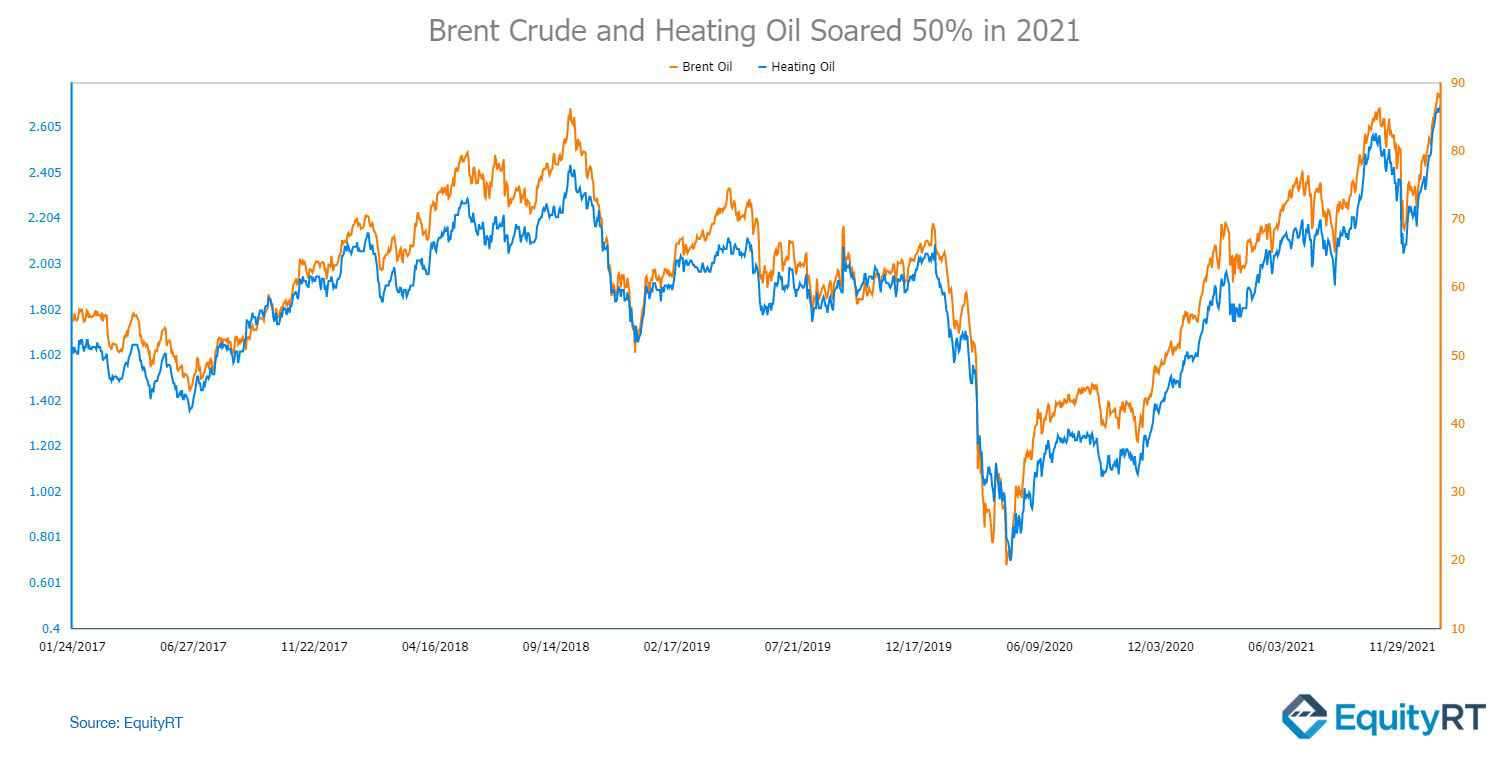 United States Consumer Inflation Expectations
Short-term consumer inflation expectations in U.S remained at a record 6% in December of 2021.
Market-Based Inflation Expectations: 10Y Yield vs. 10Y TIPS Yield
Investors closely watch the spread (breakeven inflation rate) between 10-year U.S. Treasuries and 10-year TIPS. This figure can provide a sense of expectation for future inflation- even though it isn't a perfect predictor.
As long as Treasury bonds offer yields below the expected inflation rate, TIPS remains in negative territory.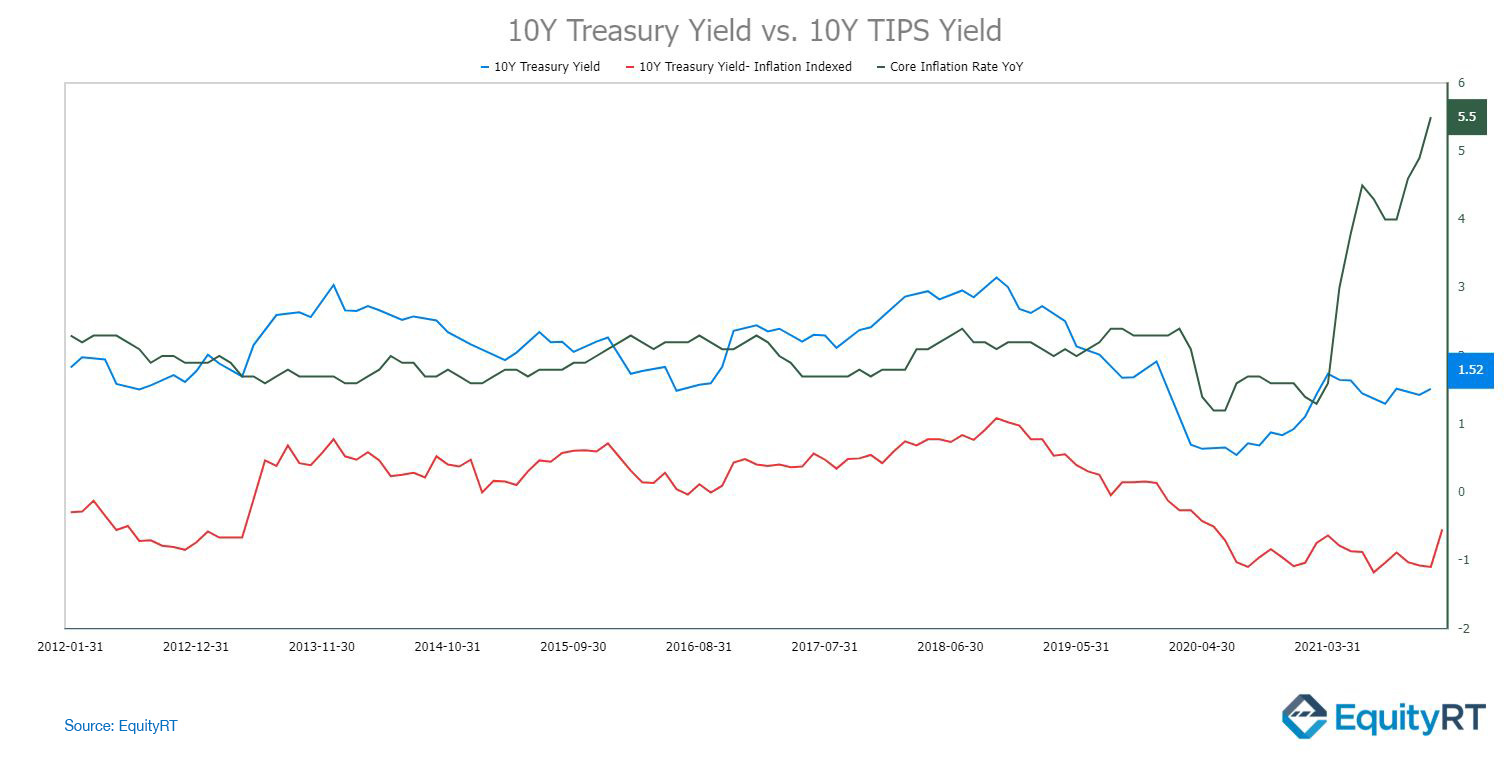 Central Bank Interest Rates (%) – Advanced and Developing Economies
Central banks are under pressure by the current inflationary pressures to act.
The United Kingdom raised interest rates for the first time in more than three years in December 2021. New Zealand, South Korea, Russia, Brazil, South Africa are some of the other countries that raised interest rates in 2021. The U.S. Fed Reserve Bank expects to raise interest rates three times in 2022.
China cut lending rates last week to prop up the slowing growth.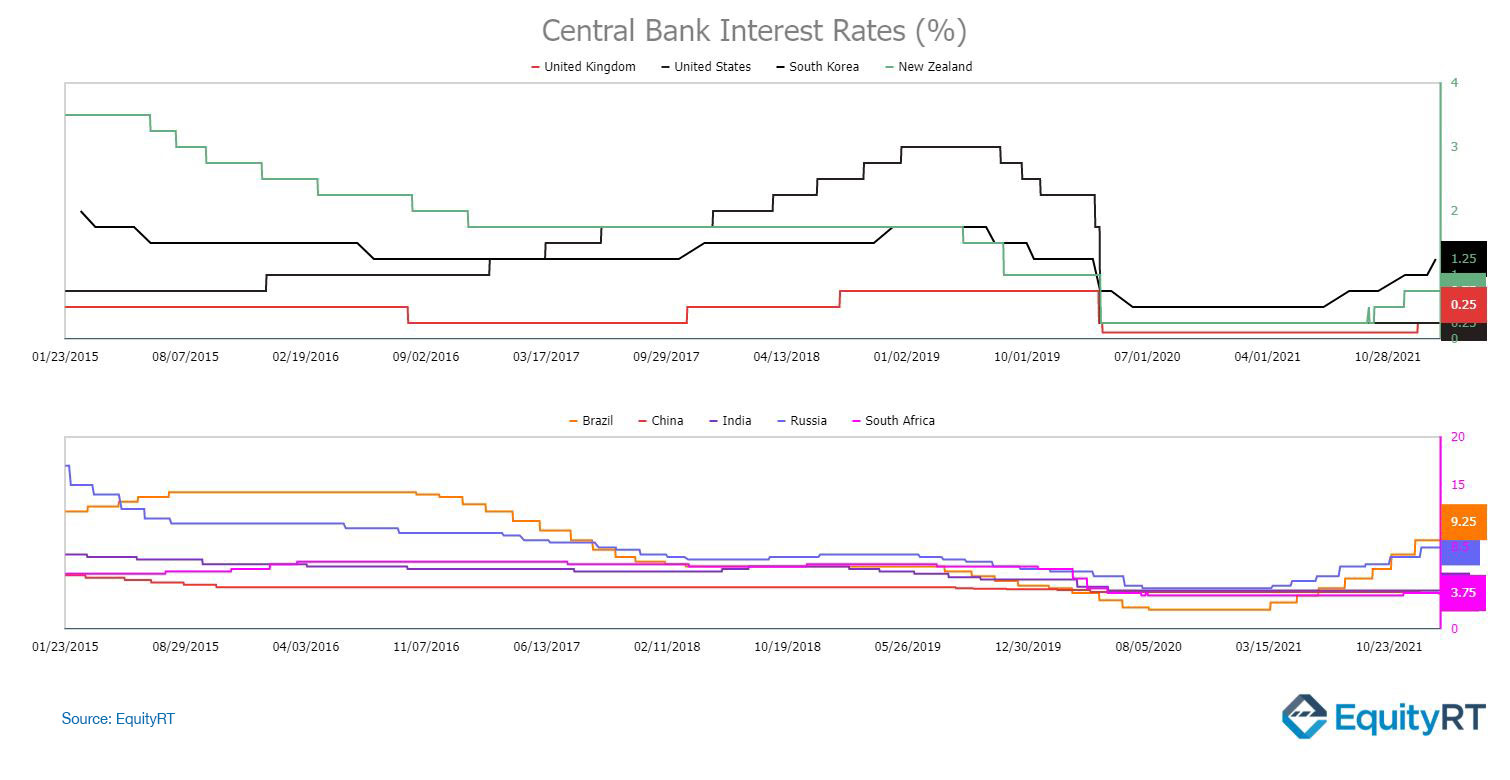 EquityRT's Economics:
Key economic data is consolidated into a single portal for quick analysis when pulling together your investment strategy, fine tuning your portfolio or making recommendations to your clients.
Easy access to the latest growth rates, monetary and fiscal indicators meticulously collected from reputable local and global sources. Give your clients the assurance that your advise is based on the most accurate and timely information.
You can contact us via info@equityrt.com for further information.
Report by Özge Gürses | Macro Research at EquityRT