Easy to use web-based platform that gives you the flexibility you need without compromising your access to innovative tools and extensive coverage of high quality data.
Many years of working closely with industry professionals and new analysts has helped in bringing together the necessary data needed for effective financial market analysis.
The SAME data, a DIFFERENT story
EquityRT looks at data differently! Smart analysis methods simplifies complicated analytics to reveal deep insights from the same data available in the market.
Analyze investors patterns and see who is investing in specific countries and industries
Watch closely shareholder behavior trends to gain insights into stock signals
With a single click get a view of financial ratio averages in countries, industries and markets
Get an understanding of the portfolio holdings of institutions
See consensus and recommendations at an industry level
Rich depth in Fundamental Analysis
The cornerstone of a sound investment strategy
Standardized Financial Templates
Company financials are available in a variety of standardized formats making comparisons easy.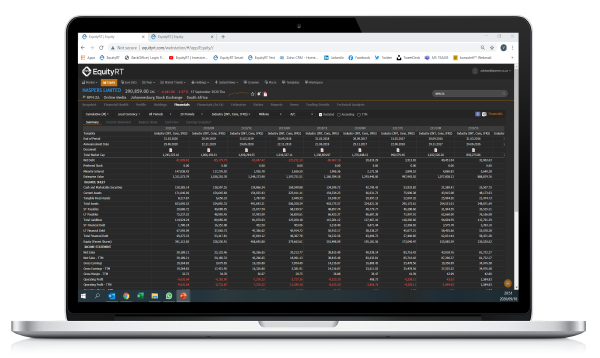 AS IS Financials
See financials in its purest format as they are published. No standardizations! No Aggregation! and No need for reconciliations and data capturing!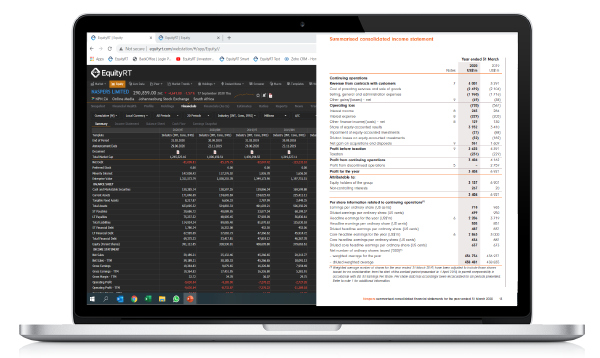 Financials are updated on the day of announcement
Restated and Original values are available with a single click
Easily convert financials into other currencies
Network and Collaborate with EquityRT
Nowadays collaboration and networking amongst the different role players in the investment industry is extremely essential.
EquityRT offers an innovative tool that simplifies the collaboration between sell-side, buy-side and other players in the investment  industry.

Upload, share and distribute reports

Setup and share stock screeners

Setup watchlists & model portfolio of stocks and share with your team or buy-side users

Apply unique ratings to stocks and share with other users

Monitor usage of your shared content
Customize your experience with Workspace
Different people will have preferences that differ too, so we created Workspace.
This is a flexible feature on Webstation that lets you customize your page with the tools and features that are important to you.
We have also added some new and interesting data tools with which you can do more detailed and tailored analysis.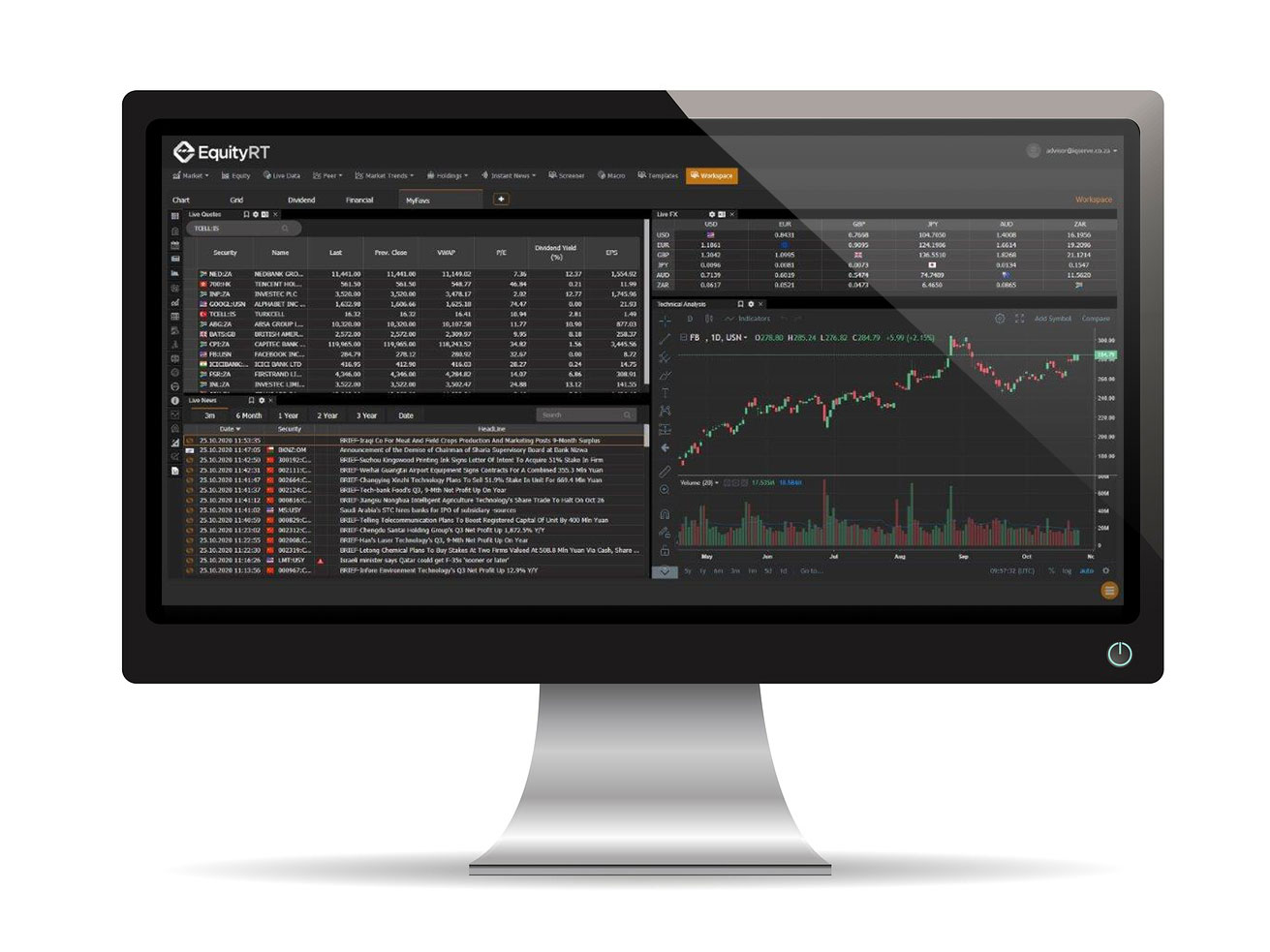 Experience Excel Automation with EquityRT Connect
Most of us use Microsoft Excel daily and the data we are analyzing will ultimately end up on Excel. EquityRT Connect speeds up this process and lets you dynamically link to EquityRT's large data coverage in Excel.
Automate time routine consuming reporting and spend more time in analysis mode.
Build professional customize reports
EquityRT Connect is the additional team member you need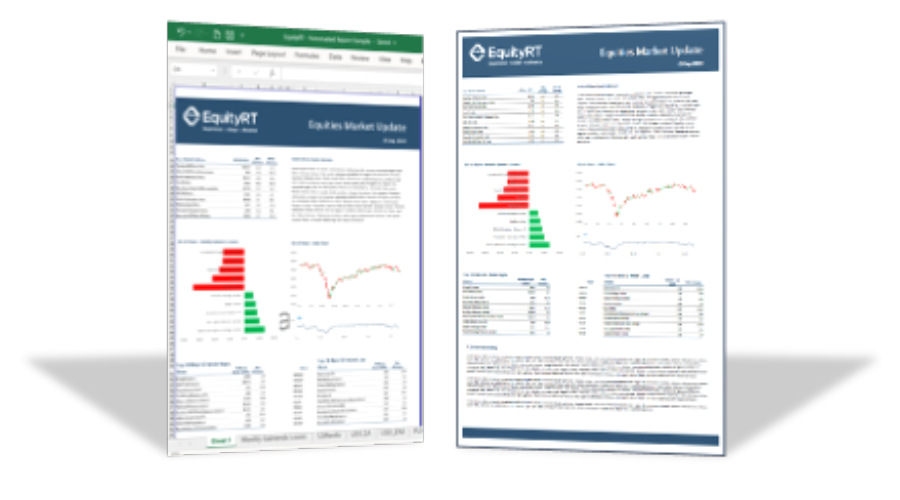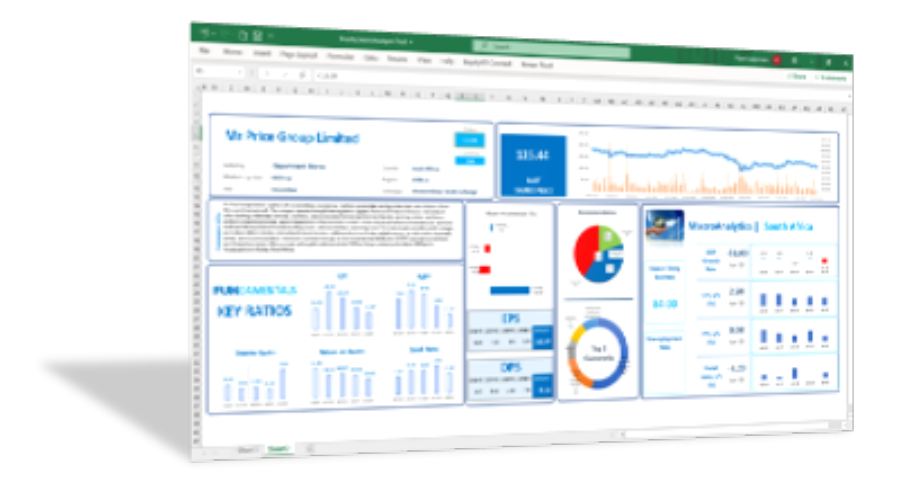 Explore EquityRTs Ready built templates
We have gone one step further and introduced ready built Excel templates. These are templates and models of commonly requested analysis – just download and amend to your needs. Once again saving time and making things easy for you.

United States
+1 917 267 8595
South Africa
+27 10 745 22 94​
Switzerland
+41 (0) 58 680 21 31