Why you should choose EquityRT?
Optimize your Investment Strategy with
EquityRT Strategy Builder and Backtesting
Portfolio managers, equity research analysts, economists and many other investment professionals are constantly challenged to deliver quality research to guide the right investment decisions.
Making the right decisions starts with having an optimum investment strategy in place. EquityRT's unique investment strategy builder and backtesting super-feature gives you the easiest way to design a fundamental based investment strategy, and back test its effectiveness in just a few clicks.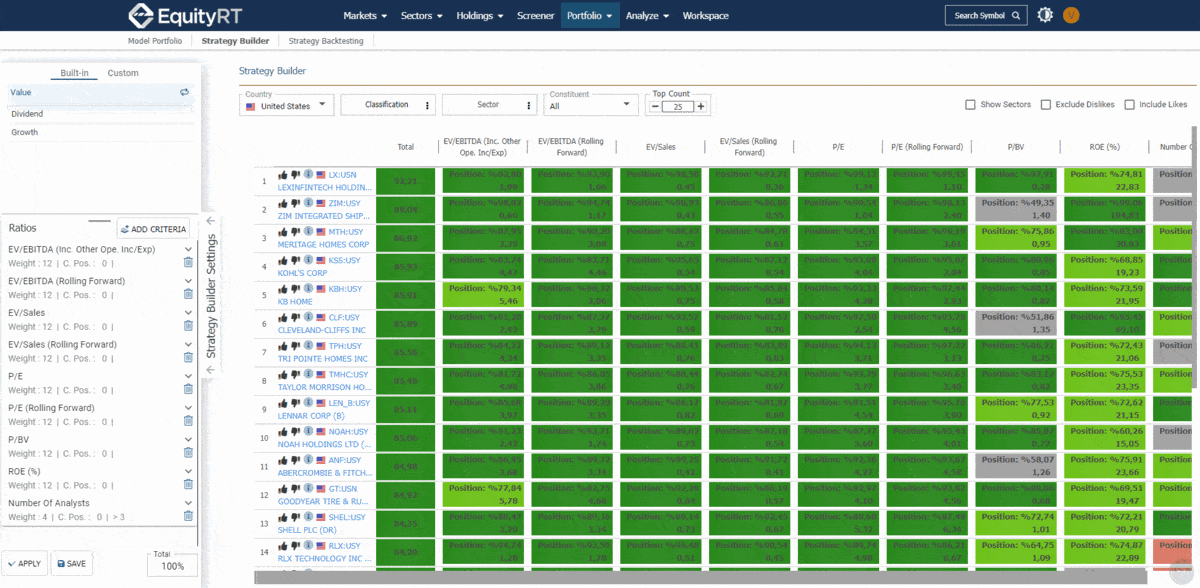 Flexible Access
No installs or download needed. Access EquityRT anytime anywhere, giving you the mobility you need in todays world.

Speed & Efficiency
Simple intuitive analytical tools, visually insightful screens and logically structured data lets you spend more time in analysis mode.

Relevant & Insightful
Consistent expansion of data coverage and innovation of platform features keeps your analysis relevant and insightful.
It's all about experience
Simple, intuitive and customizable
Model Portfolio
Lose the spreadsheet and keep track of your model portfolios online with ease. All your portfolio information is pulled together in one place keeping you in control of your investment returns.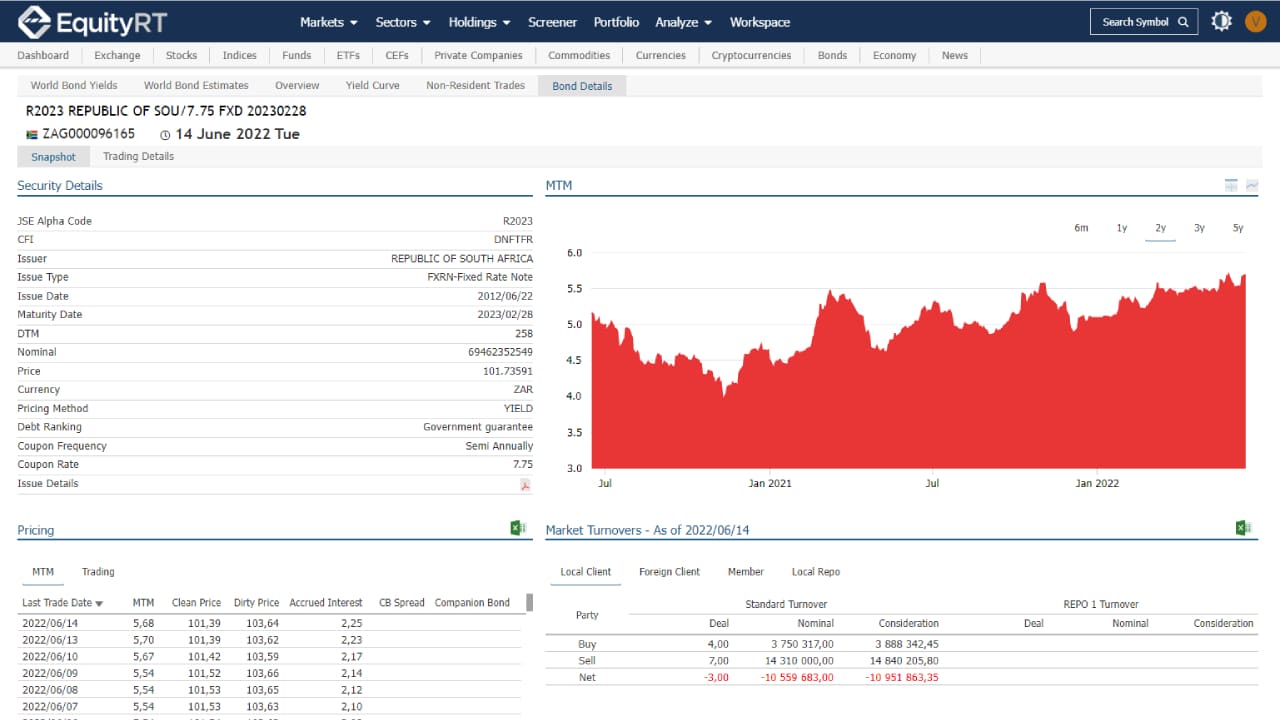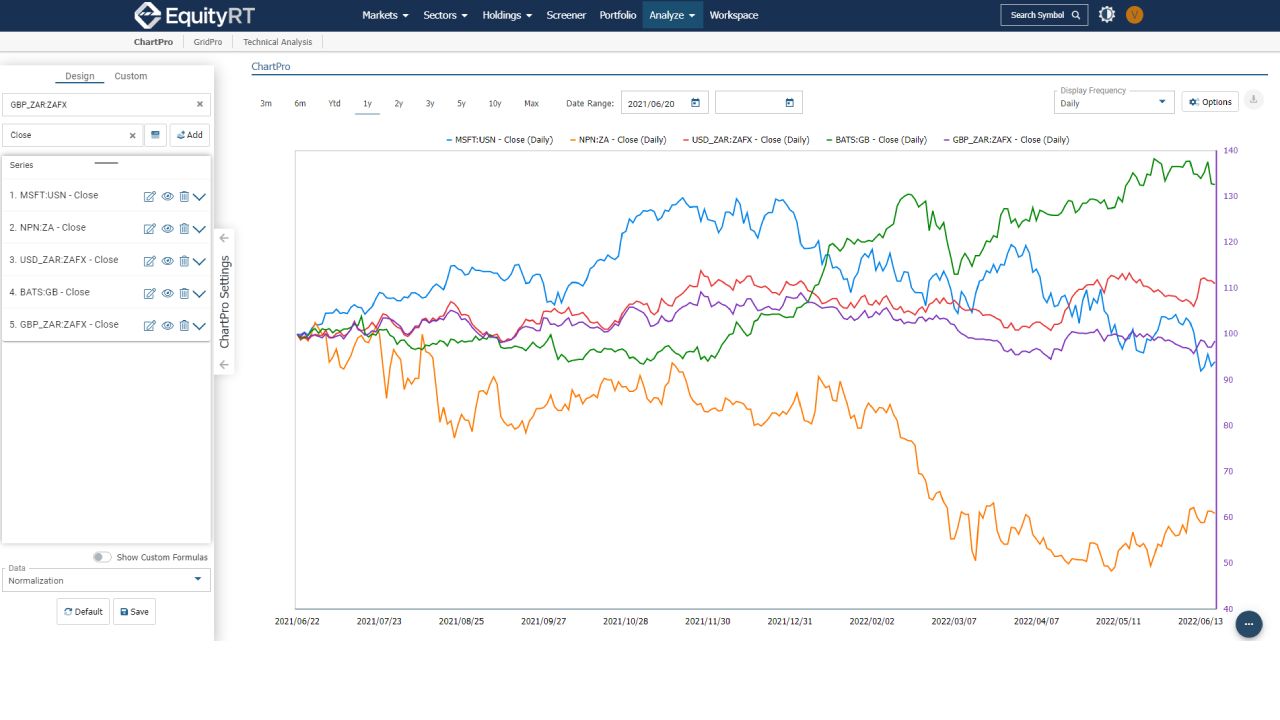 The next level of charting
Enjoy the new advanced charting application, jam-packed with new features that allows for detailed customization of your charts. From fundamental to economic charting, custom time series design or basic price charting – it all can be done here in just a few clicks.
Create data tables online
There is no longer a need to export huge chunks of data and then re-organise it in excel. We have made it easy for you to create customised data tables online, for the data you need and in the format you want.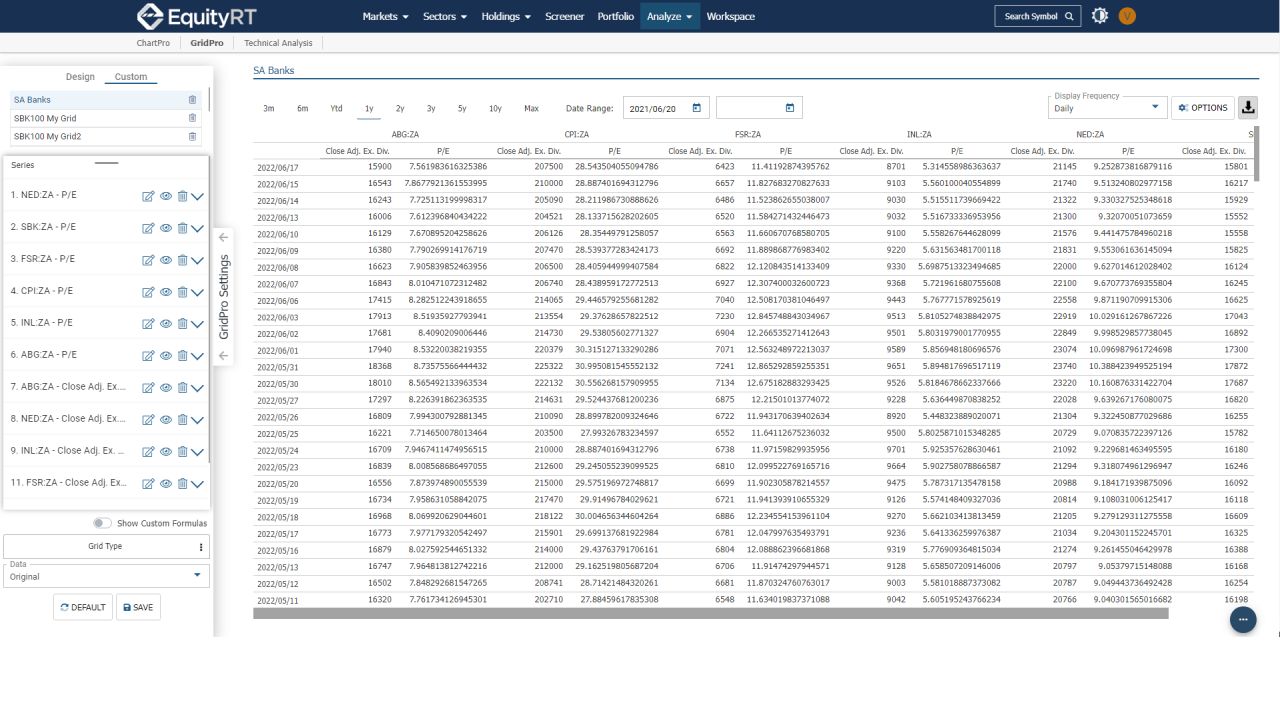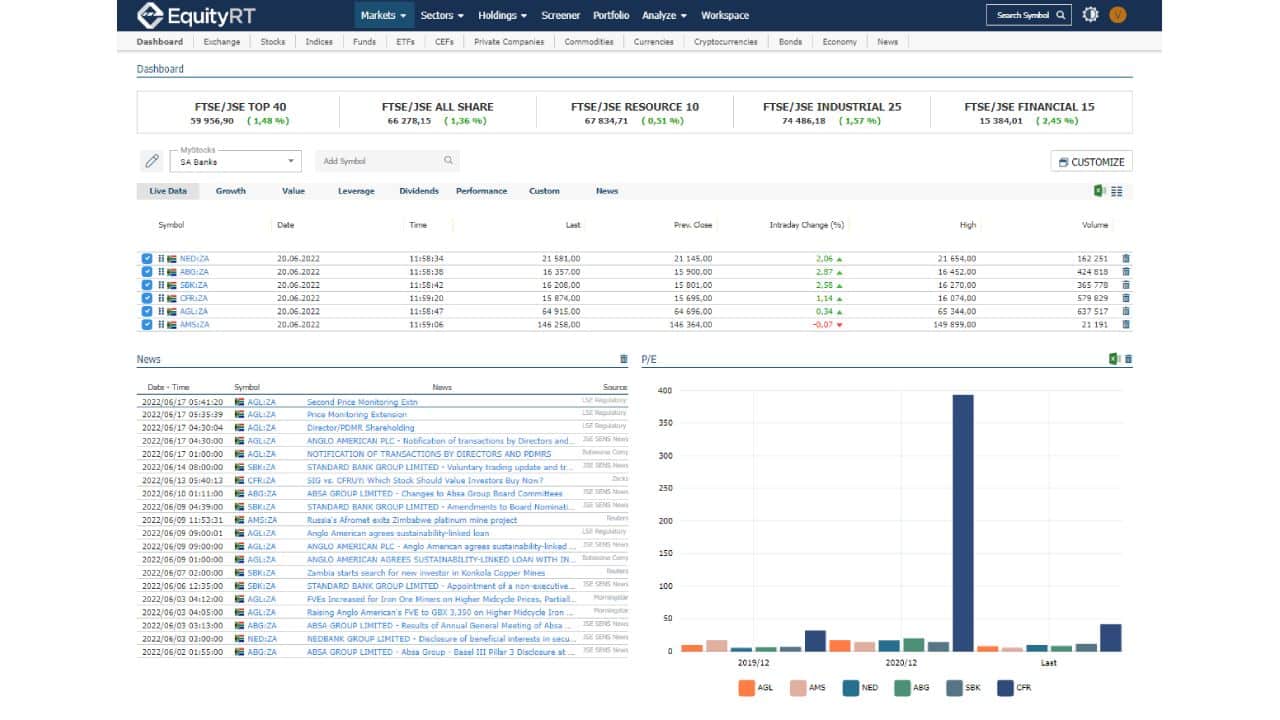 Interactive dashboard
Innovative customizable dashboard bringing together key market monitoring components helping you to keep your finger on the pulse in a single view. Create multiple watchlists of stocks. Easily switch between current day market data and key fundamental indicators of your most watched stocks, conveniently grouped into "Growth", "Value", "Leverage", and "Dividend" categories.
Fresh modern interface
A fresh, crisp and super-fast user interface with an ergonomically friendly layout makes it quick and easy to find what you are looking for.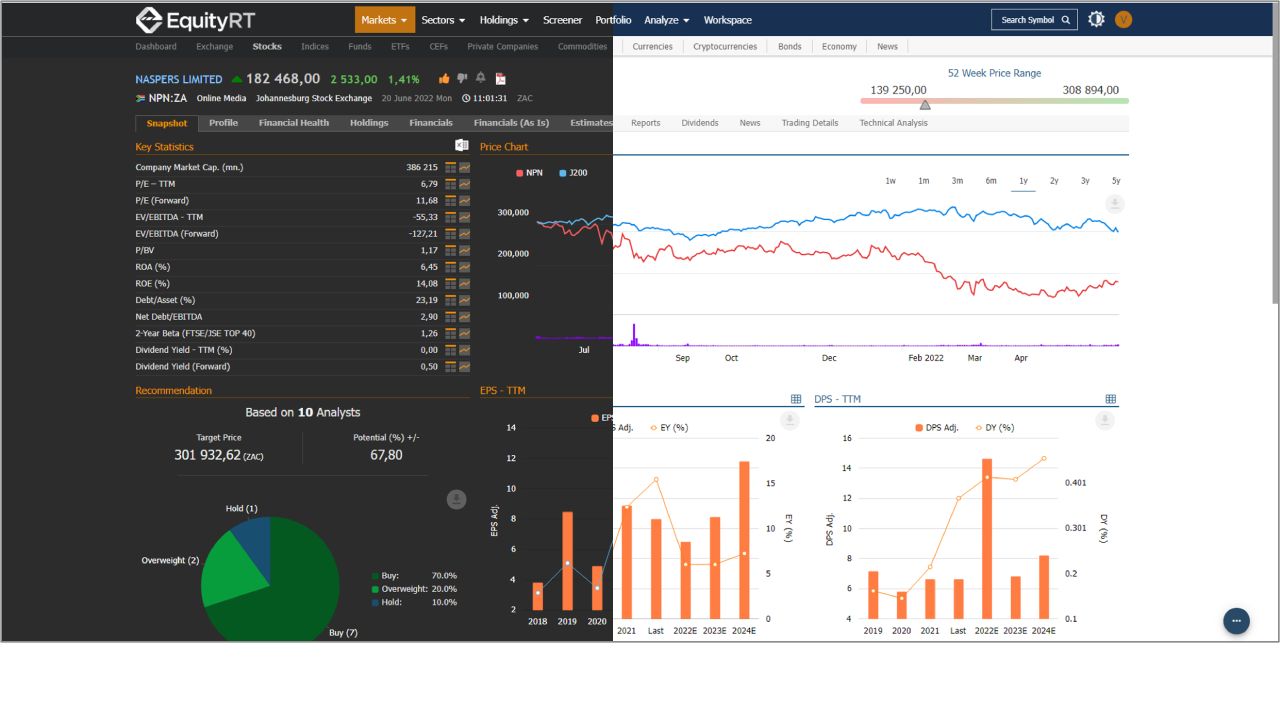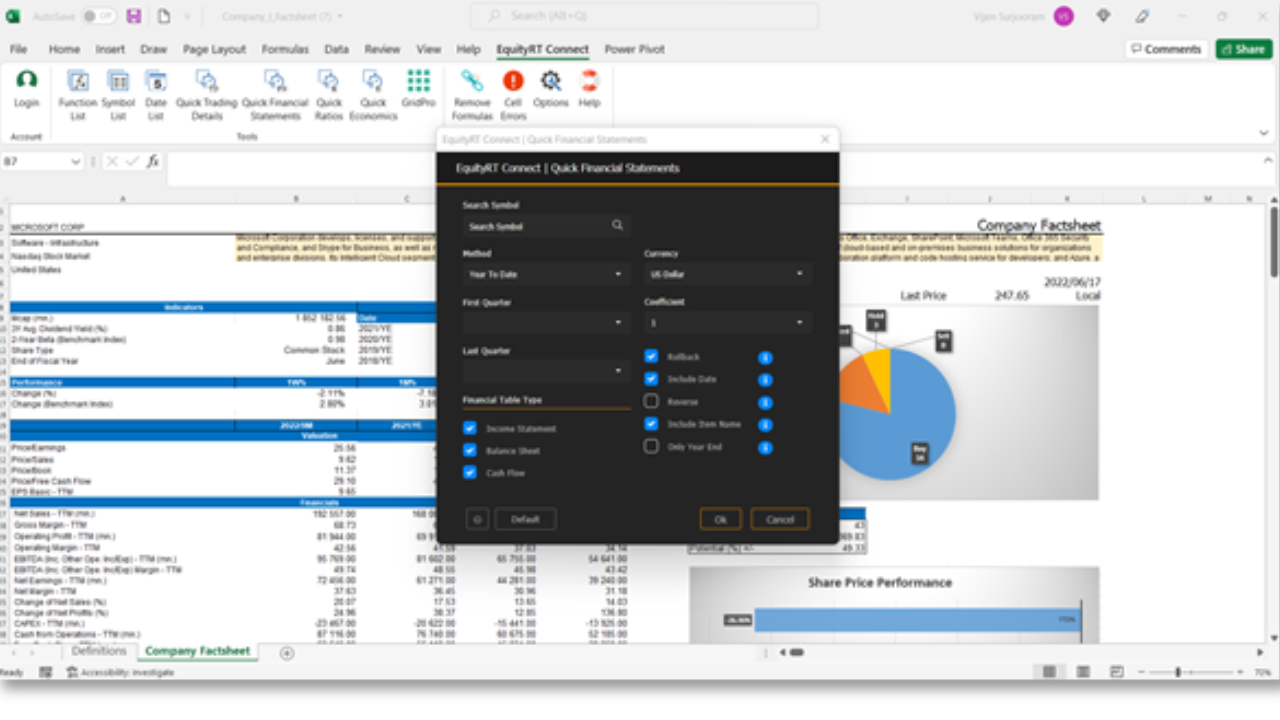 Integrate with Excel
Automate complicated and repetitive analytics in excel using our simple syntax. Use ready-built templates or get our team to help design your custom models.
Insights you can count on

Access comprehensive information and insights to support your research from the most reputable and trusted data providers.
We won't settle for any less and you shouldn't either.
Fundamental Analysis
Rich depth in fundamental analysis including extended coverage in emerging markets. We also provide company financials in a pure as published format.
Shareholder Analysis
Smart analytics is applied on detailed shareholder data to reveal interesting trends in shareholder behavior and stock holding patterns.
Estimates & Forecasts
Comprehensive coverage of estimates, forecasts and recommendations from analysts.
Stock Screening and Sector Analytics
Save time and improve your efficiency with our advanced stock screening and sector analysis tools.
Fixed Income
In-depth fixed income data is sorted and arranged in visually appealing screens making it easy to navigate to the information you need.
Macro Economic
Boost your research with access to economic indicators from 200 countries. A wide coverage with easily accessible information makes EquityRT the go-to option for detailed economic analysis.
Request a 14 Day Free Trial

The best way to understand what makes EquityRT different is to try it for yourself.
A member of our team will get in touch with you to learn more about your needs and clarify how we can assist.
Let the journey begin!