It is a tough game for investors to decide which stock to invest in. As well as there are numerous alternatives, there are also numerous metrics such as price/earnings ratio and dividend payout before taking an investment into consideration. What equity research analysts bring to the table is their
expertise in identifying value stocks out of the sea of available alternatives.
As choosing a stock is a long walk through fundamental and technical analysis; analysts need to have all the resources to analyze stocks and markets such as the richest and the most accurate financial data sets, in order to pull all the relevant information together.
All the information you need in one place. Add EquityRT to your toolkit for quality investment research.
Finding the Right Equity Research Platform can be a Bump in the Road: Enters EquityRT!
At EquityRT, we aim to give you the accurate database such as;
Dividend payments history,
Clean price data updated with splits, rights and dividends
in order you to understand how companies did in the past and the economics behind their business.
That leads us to the importance of finding stocks that fit into your investment strategy. That's where the mix of tools such as stock screening and excel add-in comes in. We take pride at EquityRT in our easy-to-navigate extensive stock screening feature that allows customization with metrics like key financial items, ratios and technical indicators.
Within "Screener" section, our users are able to add and edit a number of criteria from dividend yield to valuation ratios. Moreover, they can gain more insights by filtering region, company market capitalization and industry. Such comprehensive screening empowers EquityRT users' stock picking decisions.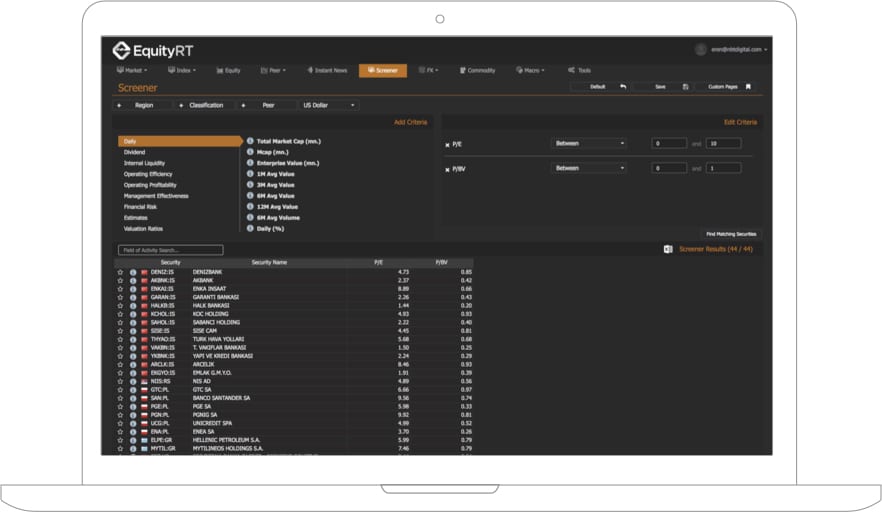 Once identified your criteria, you can turn to our Peer screen specifically designed for company comparisons. With peer analytics, you will have the opportunity to compare your targeted industries and companies. You can simply start by reviewing peer average ratio figures of several countries. Further on, its possible to analyze companies on a country basis so that you can have a list of companies worth to have a deeper look.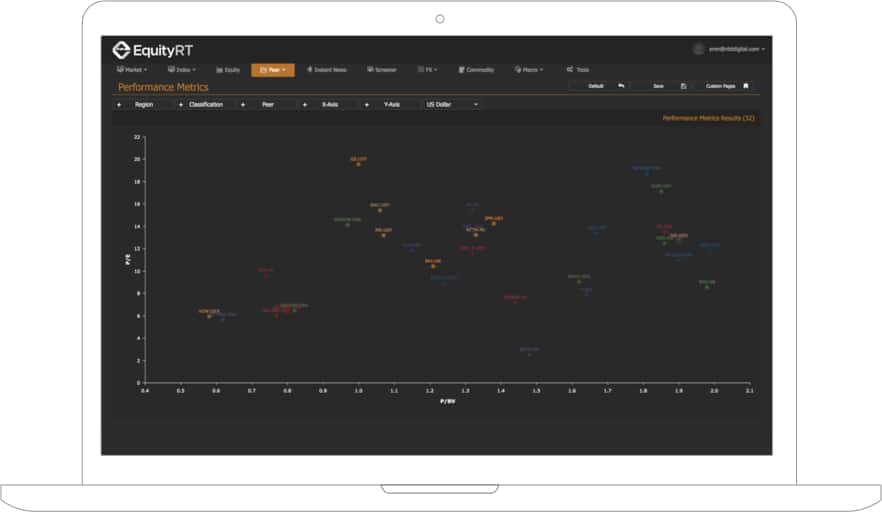 In order to combine your MS Excel skills with broad EquityRT coverage and extensive function library, you can check out our unrivalled Excel Add-in module: EquityRT Connect. We provide pre-built templates that you can download with one-click and customize in accordance with your own needs; Or create dynamic spreadsheets, reports and models automatically updated with the latest data whenever the file is opened.
Our support team is always at your disposal to assist you with your existing models to be formalized with EquityRT functions.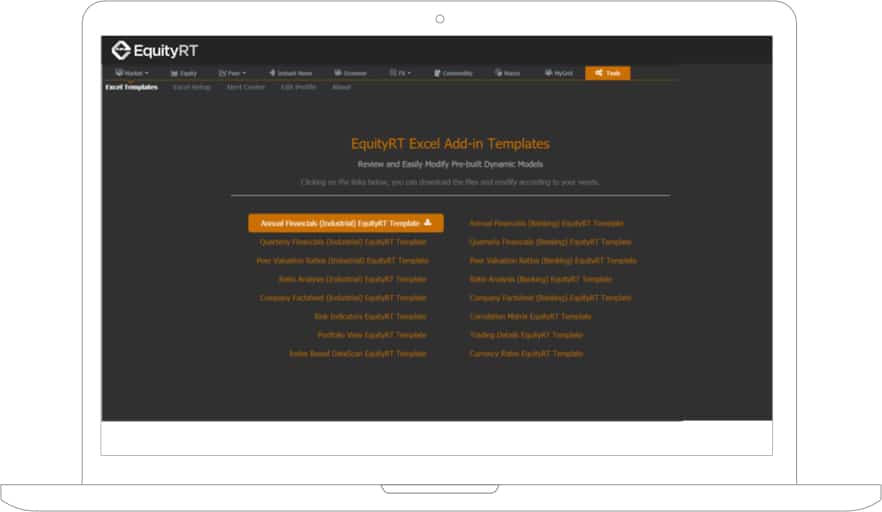 EquityRT, Market Analysis and Equity Research Platform, will enable you to quickly grasp the whole picture, easily monitor market activities and spot investment opportunities.