As the calendar quickly moves towards the year-end, the outlook for this year is like no other.
Supply-chain bottlenecks, high demand, rising inflation, labor availability, and consumer sentiment have been making the headlines for months, with many wondering what the impact will be for retailers and the 2021 shopping season.
We are at the second holiday season during the pandemic, and the question is whether the holidays ever return to normal?
All the information you need in one place. Add EquityRT to your toolkit for quality investment research.
U.S Consumer spending remains strong
From decorating Christmas trees and planning a traditional family dinner to exchanging gifts, the winter holidays are a special time for everyone across America.
According to the National Retail Federation (NRF)'s October 2021 Consumer Holiday Survey, consumers have always been starting their shopping early over the last decade but this year, shoppers are kicking off earlier than ever with almost half (49%) beginning to browse or purchase before November.
Since the supply changes are under pressure, consumers need to be start shopping early to get their orders on time before Christmas.
Consumers surveyed are planning to spend an average of $998 ($8 less than last year) on gifts, food, ornaments, and other related purchases. Despite the drop, expected holiday spending is higher than the five-year average for gifts and decorations.
The NRF also forecasts that holiday sales during November and December will grow between 8.5 percent and 10.5 percent over 2020 to between $843.4 billion and $859 billion.
As vaccination rates rise and consumers feel less concerned about going outside of their homes, we are likely to see increased demand not only on goods purchase but also services (restaurants and travel).
A steady decline in the personal savings rate to pre-pandemic levels is another sign of push-up consumer spending and support retail sales this season.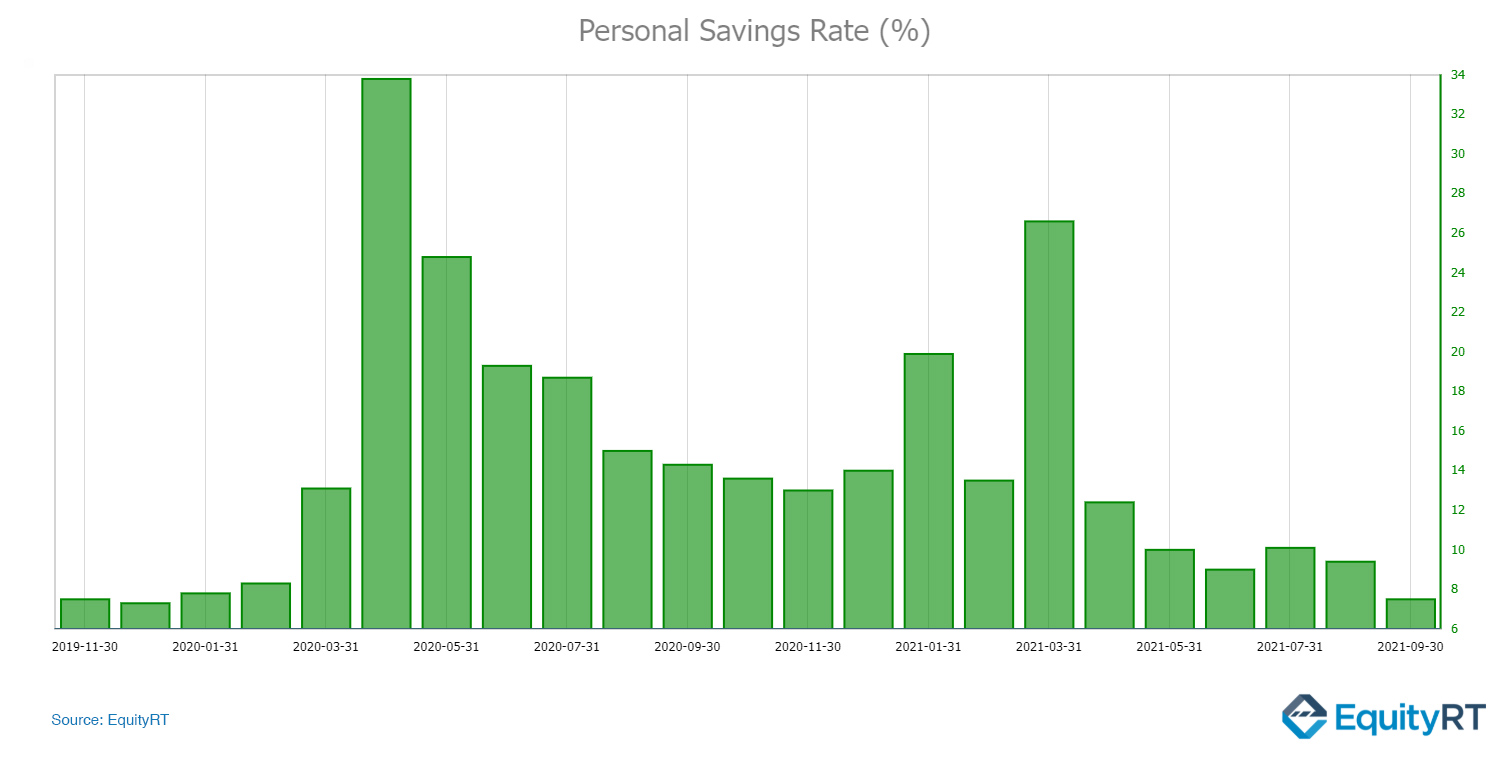 Consumer spending is the main engine propelling the U.S economic growth and drives about 70 percent of all economic activity in the country. That's why retail sales figures are a good indicator of the pulse of the economy.
In October, the total value of retail sales in the U.S. has surged more than expected to 1.7 percent from the month earlier and topped the expectations of 1.4 percent. The reading is the strongest gain of the last 7 months, likely as U.S consumers spend more on pre-holiday shopping.
To remember, retail sales for September had an unexpected boost and had shown that U.S. consumers are spending at a much faster pace than expected.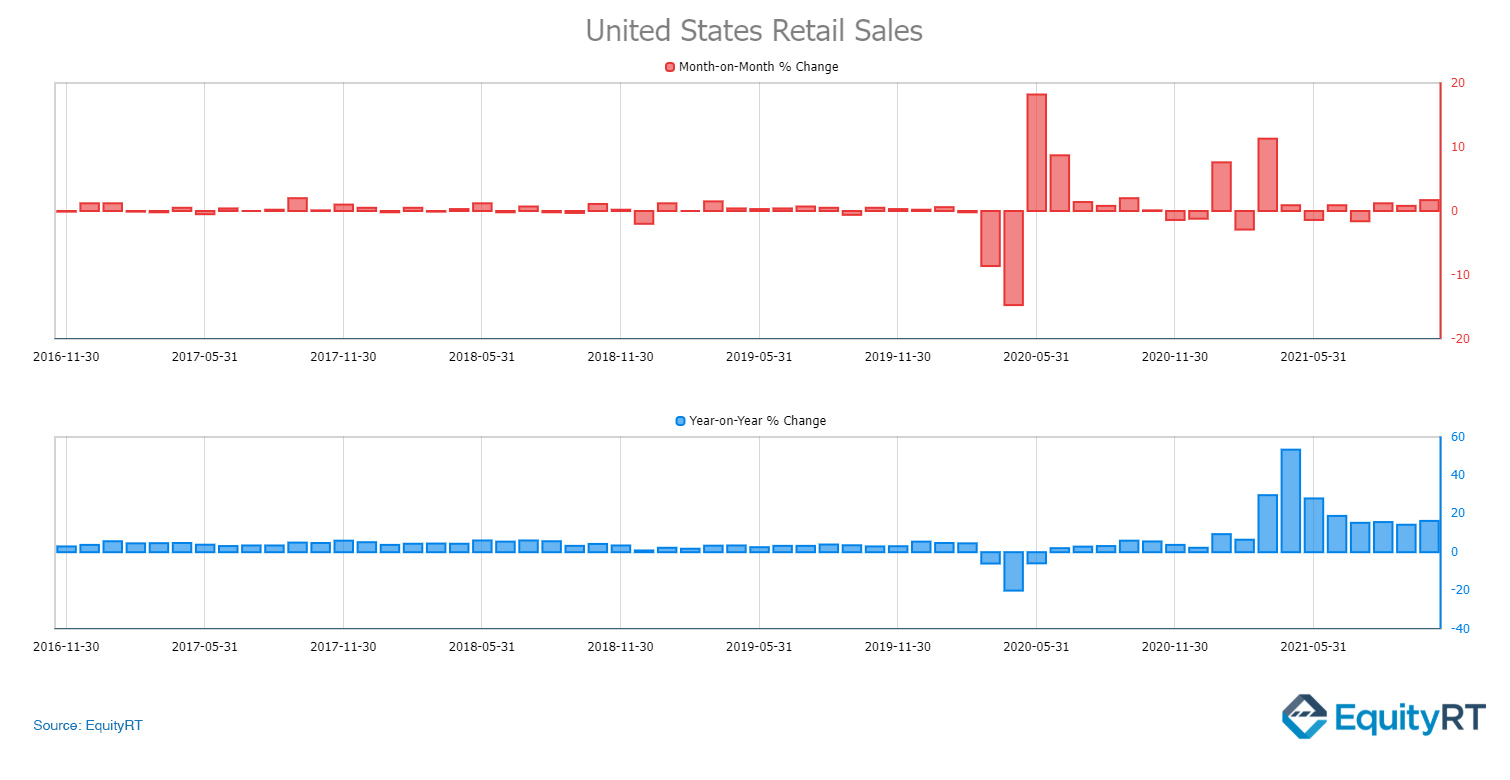 Inflation to stay?
The inflation will not cool off soon and high inflation eats up Americans' budgets. Strong holiday spending is likely to take prices standing higher in 2022, suggesting that higher prices and ongoing supply shortages are expected to stay next year.
Economic Indicators to Watch
You can track the health of the U.S economy through the following indicators,
Check out the "economic profile" section under "Economics" in the EquityRT financial analysis platform to access the data quickly.
Retail sales
Retail sales excluding automobiles
Change in retail sales
Chain store sales
Change in business inventories
Personal Savings Rate
Personal Consumption Expenditures
Personal Spending Rate
Disposable Income
Change in Consumer Prices
Change in Producer Prices
Economic indicators for over 200 countries available through EquityRT. Contact us to get started with your free-trial of EquityRT.
Report by Özge Gürses | Macro Research at EquityRT